Chicago Fire Extinguisher Maintenance
The laws of Chicago and Illinois require that all condominium associations and most commercial buildings have portable fire extinguishers installed throughout the common areas of the property. Fire code dictates the number, size and type of fire extinguishers required within a building. The location of the extinguishers throughout the property and the method of installation are also governed by code.
The fire extinguishers installed at a building must be maintained and certified by a licensed technician. Fire code defines the schedule and servicing requirements that the technician must follow. The servicing cannot be performed by a board member, property owner or resident unless he or she is licensed by the City of Chicago and the State of Illinois.
Below you will find additional details about these legal requirements.
We Make it Simple
Our technicians will perform a complete analysis of your building to determine if you have the required number, size and type of fire extinguishers required by law. Once the required equipment has been installed we can perform the ongoing maintenance and certification of the extinguishers.
Understanding the "Type" of Fire Extinguishers Required
There are multiple categories and classes of fire extinguishers in the market. The type of extinguisher required by code to protect an area of the building is primarily based upon the class of fire that the unit is meant to eliminate. For example, there are fire extinguishers designed to fight grease fires that are required within commercial kitchens. 
Fire extinguishers also differ based upon the type of "extinguishing agent" that is expelled from the unit to fight a fire. Examples of agents used by extinguishers are water, CO2, foam, special gasses and powdered chemicals. Each type of extinguisher has its own set of servicing requirements and certification schedule that must be performed by law. (The technicians at Connected Fire Services are licensed to service and maintain nearly all types of fire extinguishers.)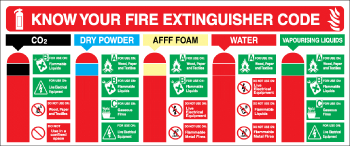 Click the thumbnail above to view a larger image.
Fortunately, condominium associations and most commercial properties will only need a single type of fire extinguisher throughout the building. Protection is provided by dry chemical fire extinguishers, which expel a fine yellow powder that smothers fires. Dry chemical fire extinguishers are the most common type of extinguisher and are used in schools, offices, hospitals and homes. 
Since all extinguishers throughout a condominium association or commercial building are of the same type, they will all follow the same maintenance schedule and certification rules (these are detailed in the next section). 
Warning
Don't waste your money purchasing fire extinguishers from retail stores such as Home Depot, Menards or Costco. These units do not meet code for commercial applications and are only designed to be used inside of your home. All extinguishers must be certified and tagged by a licensed fire extinguisher technician prior to placing into service.
Maintenance & Certification Requirements
The legal requirements for servicing a building's existing dry chemical fire extinguishers in Chicago are detailed below. We track and monitor the required service dates for our clients' fire extinguishers. When servicing is due, we pro-actively contact the client to schedule a convenient time for our technician to visit the property and perform the required servicing. 
Note
The requirements below are specific to dry chemical extinguishers, which are the extinguishers most commonly found in residential condo building applications. Other types of extinguishers follow different maintenance schedules and requirements.
Click any of the topics below to view more details.
 Portable fire extinguishers must be inspected and certified on an annual basis. Annual service is intended to give maximum assurance that the extinguisher will operate safely and effectively. When due, our technician will perform a 10-point maintenance check on each of your building's extinguishers. This process includes:
Visual Examination: performed on the entire unit, carefully inspecting for dents, rust, corrosion, pitting or other shell damage.
Test/Maintenance History: reviewed to determine the need for recharge, internal maintenance or hydrostatic testing.
Pressure Gauge: checked to ensure that the unit is fully pressurized.
Weight: the extinguisher is checked to ensure the correct amount of extinguishing agent is in cylinder.
Discharge Hose: removed to inspect for signs of blockage or damage.
Locking Pin: removed to ensure that the pin is easily removed in the event of an actual fire emergency.
Handle/Lever: checked for smooth discharge operation.
Clean Extinguisher: using a cleaning solution.
Mounting Bracket: checked to ensure extinguisher is installed securely on correct mounting hook or bracket.
Inspection Certification: documented by attaching a safety tag identifying the service technician having performed the service.
Compliance Report: results recorded in the building's compliance report and uploaded to the Fire Safety Portal.
Every six years from the manufacture date, extinguishers must be fully discharged, emptied and put through a full internal inspection and appropriate maintenance procedures. This includes a thorough examination of all mechanical parts, extinguishing agent and expellant. A label recording the completion of the 6-year inspection is affixed to the extinguisher.
The 6-year maintenance work cannot be completed at a property and requires the extinguisher to be taken to our shop for service. Due to the time required to perform the maintenance work and the additional travel costs, it is cost prohibitive to have the 6-year maintenance performed. Instead, we replace all extinguishers requiring 6-year maintenance with a new extinguisher.
Our clients have the option of having expired units replaced with either new or re-certified extinguishers. Either option is less expensive than having the required 6-year maintenance performed on an existing unit.
This is a periodic test mandated by NFPA requiring highly specialized test equipment to ensure the integrity of the extinguisher cylinder at its listed operating pressure. Extinguishers are to be hydro tested at 12 year intervals. In addition to the hydro testing of the extinguisher cylinder, all of the 6-year maintenance steps must also be performed. Once the extinguisher has gone through the 12 year hydro testing, a special label is affixed to the extinguisher showing the year of the test.
Similar to extinguishers requiring 6-year maintenance, from a practical perspective, it is cost prohibitive to have this work performed. It is less expensive to have the extinguisher replaced with a new unit.
To further minimize costs our clients have the option of having expired units replaced with either new or re-certified extinguishers.
Determining the Number, Size and Location of Fire Extinguishers Required
Please review our Calculate Extinguishers Needed page to understand the rules governing the number, size and location of fire extinguishers required throughout buildings in Chicago.
Security Cabinets
Security cabinets provide a clean, modern look and provide a strong deterrent against the tampering and theft of your fire extinguishers. There are many other advantages to utilizing security cabinets. To learn more and help you decide if cabinets make sense for your building, please review our security cabinets overview.
GET PROTECTED NOW!
Save 40% with Re-certified Extinguishers
We carry a full inventory of re-certified extinguishers that have been fully "torn down" and rebuilt to their original operating condition by our licensed technicians.
These units are fully certified and code compliant, and are 40% less expensive! This is a great cost-saving option that you'll only find at Connected.