In order to legally service fire extinguishers within the State of Illinois, a state license is required.
Obtaining this license requires a technician to pass a comprehensive exam that proves his or her competency of the information contained in NFPA 10. NFPA 10 is published by the National Fire Protection Agency and is the standard for portable fire extinguishers. These codes apply to the selection, installation, inspection, maintenance, and testing of portable extinguishing equipment. In short, this is the set of official rules that govern fire extinguishers.
In addition to the state license, technicians must obtain an additional license from the City of Chicago in order to service fire extinguishers within city limits. Obtaining the Chicago license requires a technician to pass an extremely difficult exam, proctored by the Chicago Fire Department, to prove competency over both NFPA 10 and the fire regulations contained within the Chicago Municipal Code.
"Servicing" a fire extinguisher includes performing the required annual maintenance procedures, which results in a certification tag being attached to the extinguisher upon completion of the work. A sample of the required tag is below.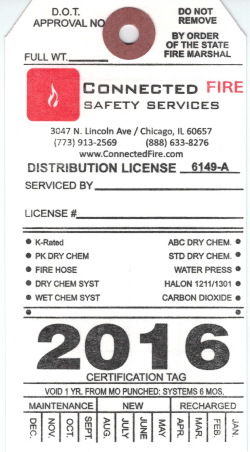 A free version of NFPA 10 is available online at this address: http://www.nfpa.org/codes-and-standards/document-information-pages
The Chicago Municipal Code is available online here: http://www.amlegal.com/codes/client/chicago_il/. Chapter 15 of the code covers fire protection equipment.
Can I install or tag fire extinguishers myself?
No, not unless you are a licensed fire extinguisher technician. All fire extinguishers installed to protect the common areas of a building or used in commercial applications must be certified and tagged by a licensed technician. If a Board member or building owner installs a fire extinguisher that they purchased from Home Depot, Menards or Costco, for example, the unit would not meet the legal criteria of NFPA 10 and the building would not be up-to-code. If a fire were to occur, the Board or building owner could be exposed to severe legal issues.
Do not make the mistake of confusing fire extinguishers used to protect your home or condominium unit with those needed to protect the common areas of a building. If you are not a licensed portable fire extinguisher technician, it is impossible for you to bring your building into compliance with city and state fire laws.