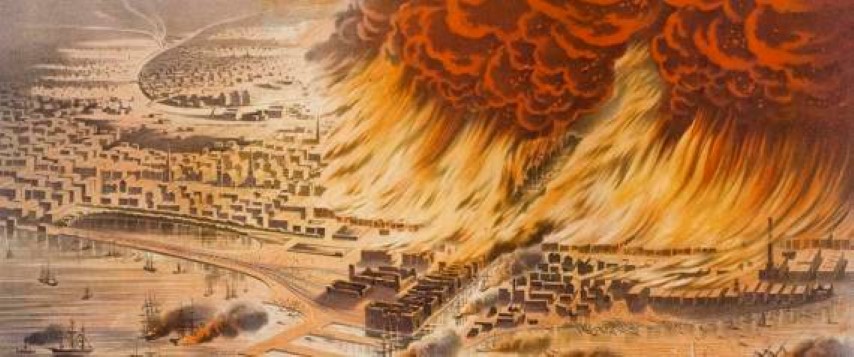 Before fireproofing, fire-resistant materials and fire sprinkler systems existed, the majority of buildings in Chicago had virtually no fire protection. Fires that burned down major parts of growing cities contributed to the need for regulated fire standards that would protect people and their structural property. One such fire was the Great Chicago Fire of 1871.
After this fire killed 300 people, left 100,000 homeless and destroyed over 2,000 acres of land, Chicago was prompted to implement stricter codes for fire safety and for building standards. How, then, did a similar fire cause so much damage again just three years later?
History shows us that once a law is enacted, it often takes years for it to actually take hold and affect change. With most of the buildings in Chicago at the time made of wood, it was not possible to expect everyone to abandon their structures and start anew with residences and businesses that were more fireproof. With so many wooden structures still in place, it was easy for the Chicago Fire of 1874 to happen.
Also known as the "Second Fire of Chicago", the Chicago Fire of 1874 took place on the evening of July 14th in an area neighboring that of the Great Chicago Fire of 1871. The neighborhood was mostly comprised of Jewish immigrants of various nationalities and middle-class African-Americans. Their movement after the fire had a major impact on the location of different cultures throughout the city, even to today. For example, many African-Americans moved to what is known as the Black Belt. It is currently a hub of black life in Chicago, just as the Jewish neighborhood that many people relocated to way back then was the center for Jewish life for many decades.
The Chicago Fire of 1874 wasn't the most damaging, but it was the last straw, so to speak. The National Board of Underwriters canceled all insurance policies until major changes were underway with Chicago fire and building codes. They promptly created a list of demands that were to be met by city codes in order to have the fire protection policies reinstated.
Some of the demands included:
Banning the construction of wooden buildings within the city limits.
Reorganizing the fire department leadership style.
Increasing the size of water mains.
The ultimate result of the Chicago Fire of 1874 was a major restructuring of the Fire Department, creation of stricter fire safety laws and building codes, and an end to wooden construction within city limits. Fire safety became a priority for city officials and many citizens.
New York City's fire chief, Alexander Shaler, was hired to head the reorganization along with the newly formed Citizens' Association of Chicago. Their quick action caused insurers to resume their work in Chicago by the fall of 1874, but changes continued to happen to improve Chicago's fire safety. One such change was the hiring of about 300 watchmen to police the streets for fires at night.
Fire safety laws continued to grow and evolve, as well. For example, in 1876, safety measures such as metal fire escapes were mandated for residential buildings with 3 or more floors. The Chicago Fire of 1874 marked an important turning point in fire safety history. It made way for fire regulations recognized nationwide today. As a result, the number of buildings and residents that survive fires has significantly increased since the late 1800s.